This easy creamy mushroom soup with potatoes, onions, and garlic is comforting and warming with a rich mushroom flavor. This recipe uses no flour, so it's suitable for the gluten-free crowd.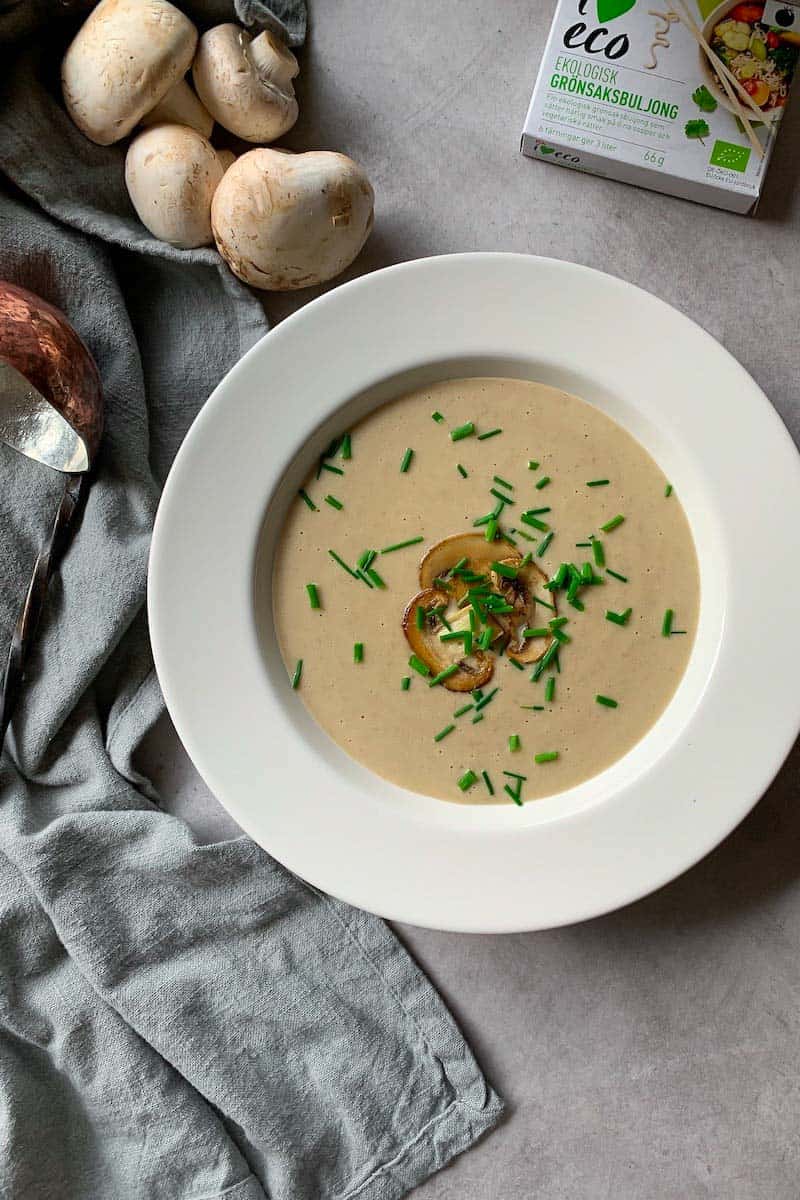 Jump to:
Brrrr… can you feel it? It's cold outside! It's time for chili, gravy, and SOUP!
What could be better than a bowl of hot, creamy mushroom soup after a long walk in the fall woods? I'll tell you! NOTHING!
The first time I made cream of mushroom soup, I was in university. It was a time when I struggled with my weight so I was trying to eat healthy food and, as a result, cooking everything from scratch. Like, literally everything! Can you imagine how much time it took me to make a pot of soup? A LOT! First, I was making veggie stock, then I was sautéing, and then blending and adding cooking cream.
Now I'm more relaxed with my cooking. I'm okay using premade stuff that makes my life easier, like veggie stock cubes 🙂 So I adjusted this recipe just the way I wanted and, let me tell you, this new version is just amazing! It's delicious, it's healthy, it's gluten-free, and it takes only 30 mins to make.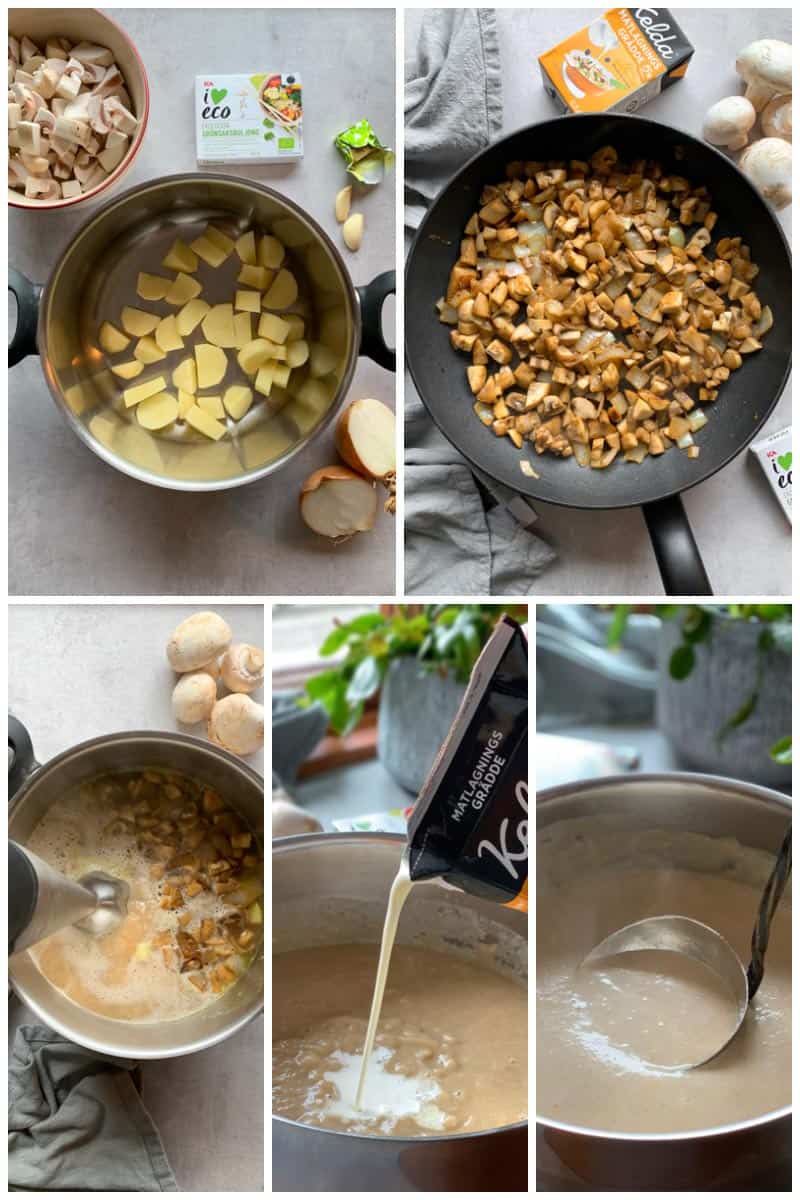 How to make it thicker
There are several ways to do it. You can mix in flour paste, or add corn starch, tapioca, or arrowroot slurry at the end of cooking - but I use another method. Potatoes! Yes, you heard it right, I use starchy potatoes to thicken up the soup. It works fantastically. Potatoes add so much needed thickness and nice creamy texture to the soup! This method also makes the dish gluten-free.
What cream to use
Higher-fat creams are resistant to curdling, so there's nothing to worry about when using a cream with 15% fat. But, just in case, the best way to prevent the cream from curdling is to take it out of the fridge in advance, bring it to room temperature, and then slowly add it to the hot-but-not-boiling soup.
Serving ideas
This soup is so delicious and satisfying on its own! But, if you're extra hungry or just want to pair it with something else, I would suggest you try it with:
KETO GRILLED CHEESE - Cream of mushroom soup and grilled cheese sandwich - a couple made in heaven!
LOW CARB CHIA CRACKERS - Buttery and salty chia crackers will be a perfect addition to your creamy mushroom soup.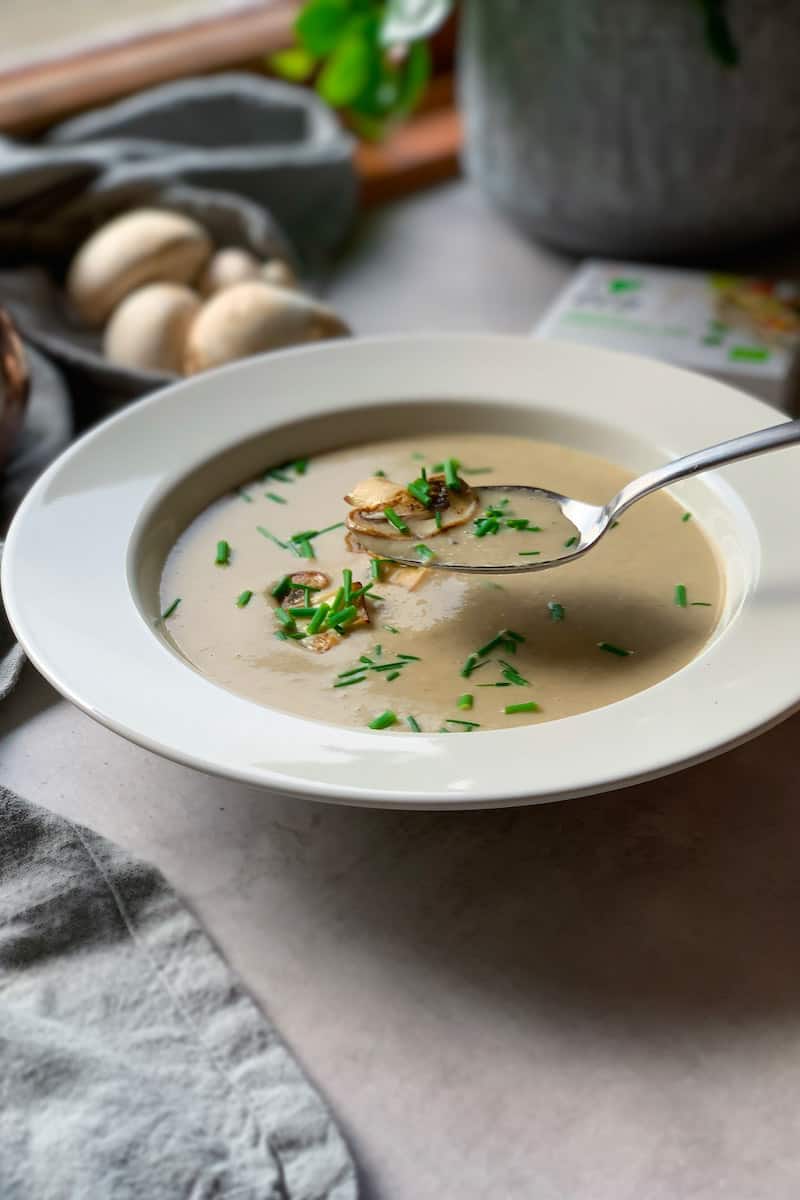 Recipe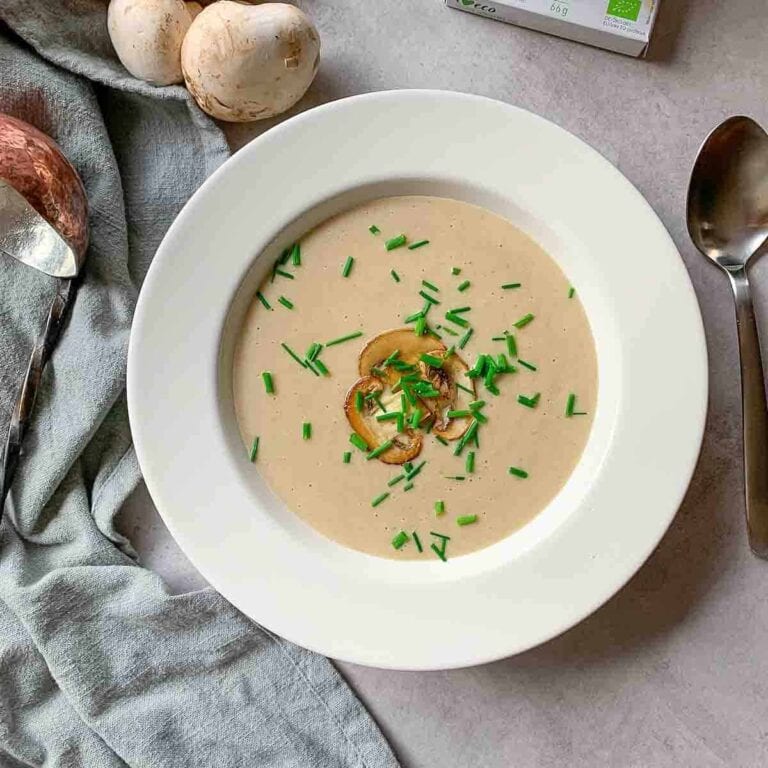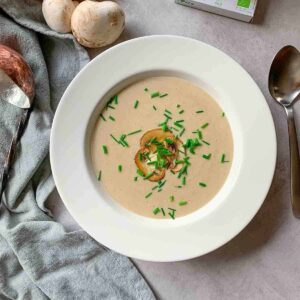 EASY CREAMY MUSHROOM SOUP
This easy creamy mushroom soup with potatoes, onions, and garlic is comforting and warming with reach mushroom flavor. This recipe uses no flour, so it's suitable for the gluten-free crowd. 
Print
Pin
Rate
Ingredients
200

g

potatoes

diced

300

g

white bottom mushrooms

diced

1

cube

vegetable stock

1

medium yellow onion

diced

2

cloves

garlic

minced

20

g

butter

unsalted

200

ml

cooking cream

15% fat

Salt

Freshly ground black pepper
Instructions
Measure 600ml of water, pour it in a 3-quart stockpot and bring to the boil. Add the vegetable stock cube, potatoes and season with salt if needed. Reduce the heat and simmer until the potatoes are tender. It should take around 8-10 min depends on the size of the potato cubes. Remove the pot from the heat and set aside.

Heat a non-stick skillet (10 inches) over medium-high heat. Add the butter. 

When the butter is fully melted, add the onions and garlic. Sauté until the onions are just softened. Add the mushrooms, season with salt and freshly ground black pepper to taste, and cook until the mushrooms are golden brown and reduced in size.

Remove the skillet from the heat; add the onions and mushrooms into the stockpot with potatoes in it. 

Using an immersion blender, puree the soup until smooth. You can also use a food processor or a standing blender instead. Work in batches if needed and return the soup to the pot after you finish.

Return the pot to medium heat. Stir the cooking cream into the soup. Adjust salt and pepper to taste, if needed. When you see the first bubbles on the surface, turn off the heat and remove the pot from the stove.

Serve the soup with freshly chopped chives and reserved mushroom slices.
Notes
You can use cremini mushrooms, aka "baby bella" instead of white bottom mushrooms for this recipe. The result will differ in color (the soup will be darker) and taste (more prominent earthy flavor).
You can use 25% fat cooking cream instead of 15% if it's what you have on hands, but I wouldn't suggest going higher than 25%. Also, you might want to add a little bit more water if you use 25% fat cream to make the soup not too thick.
NET CARBS: 15g
Nutrition Facts
EASY CREAMY MUSHROOM SOUP
Amount Per Serving
Calories 188
Calories from Fat 117
% Daily Value*
Fat 13g20%
Potassium 567mg16%
Carbohydrates 17g6%
Protein 5g10%
Vitamin A 131IU3%
Vitamin C 9mg11%
Calcium 22mg2%
Iron 1mg6%
* Percent Daily Values are based on a 2000 calorie diet.
This website, https://heretocook.com, offers nutritional information for recipes contained on this site. This information is provided as a courtesy and should not be construed as a guarantee. This information is a product of online calculators such as Cronometer.com and MyFitnesPal.com
You may also like