This spicy bacon frittata is a perfect alternative to a regular breakfast omelet. It has a soft and custardy texture with some crispy spicy bacon bits and tender zucchini cubes.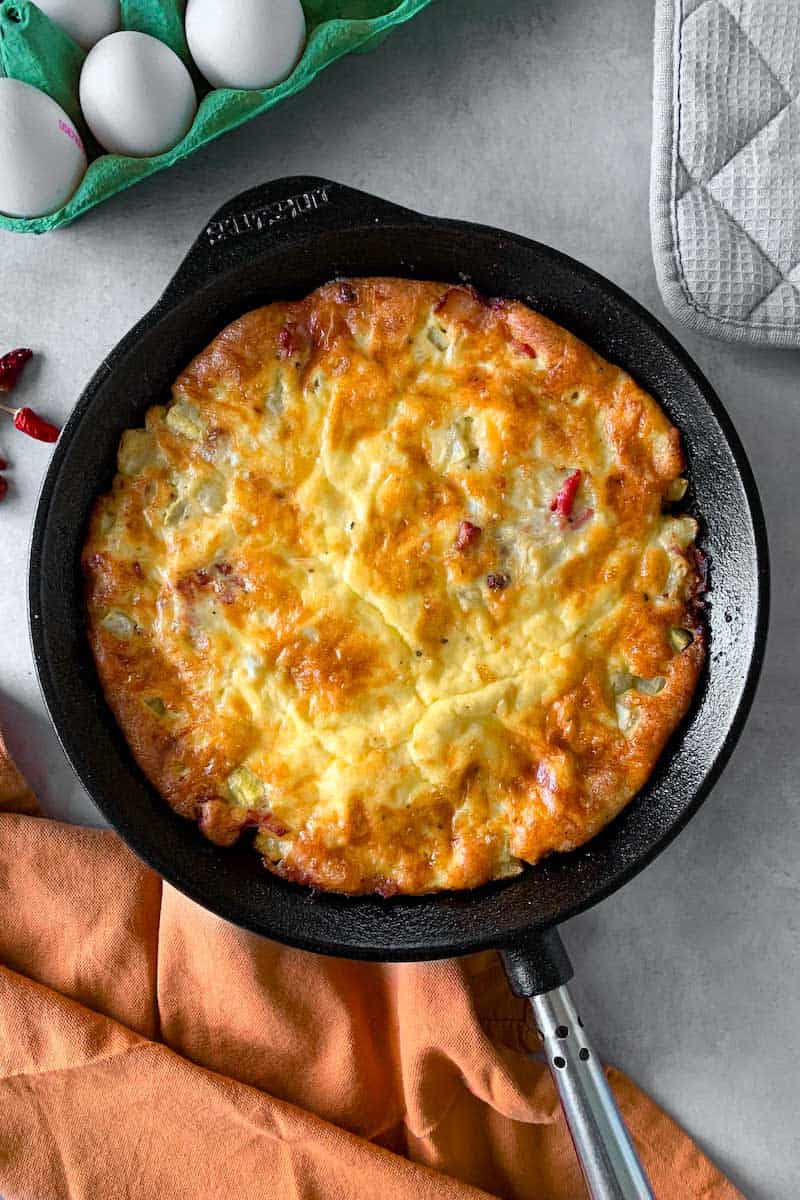 Jump to:
I was an omelet person… until I tried frittata. Now I'm obsessed with it and I cook it, I would say, way too often. I need to stop this obsession! Like, seriously! But, before I do, I want to share with you my favorite way of making this easy Italian egg and cheese-based dish.
Since I like spicy food, I couldn't help myself throwing some chili peppers in my SPICY Bacon Frittata. To make it more colorful I added zucchini but, if you don't like this combo, no worries! There's plenty of room for experimenting with different ingredients.
What to put in frittata
Frittatas are one of the most versatile dishes you can find. In choosing ingredients to put in a frittata, the only limit is your imagination. I'm serious! But let me give you some ideas of what filling you can use instead of bacon and zucchini:
Cherry tomatoes and zucchini
Feta cheese, spinach, and onions
Broccoli and mushrooms
Shredded chicken breast and bell pepper
Thin slices of baked potatoes and onions (if you're not following the low-carb diet)
Leftovers!!!
Carbs in keto frittata
Oh yes, it's keto unless you put something inside like potatoes - which I'm sure is super tasty, but not low in carbs and therefore not keto-friendly. So, be mindful of what you put in your frittata! However, if you follow this recipe you're safe, because it's only 3g of net carbs per portion.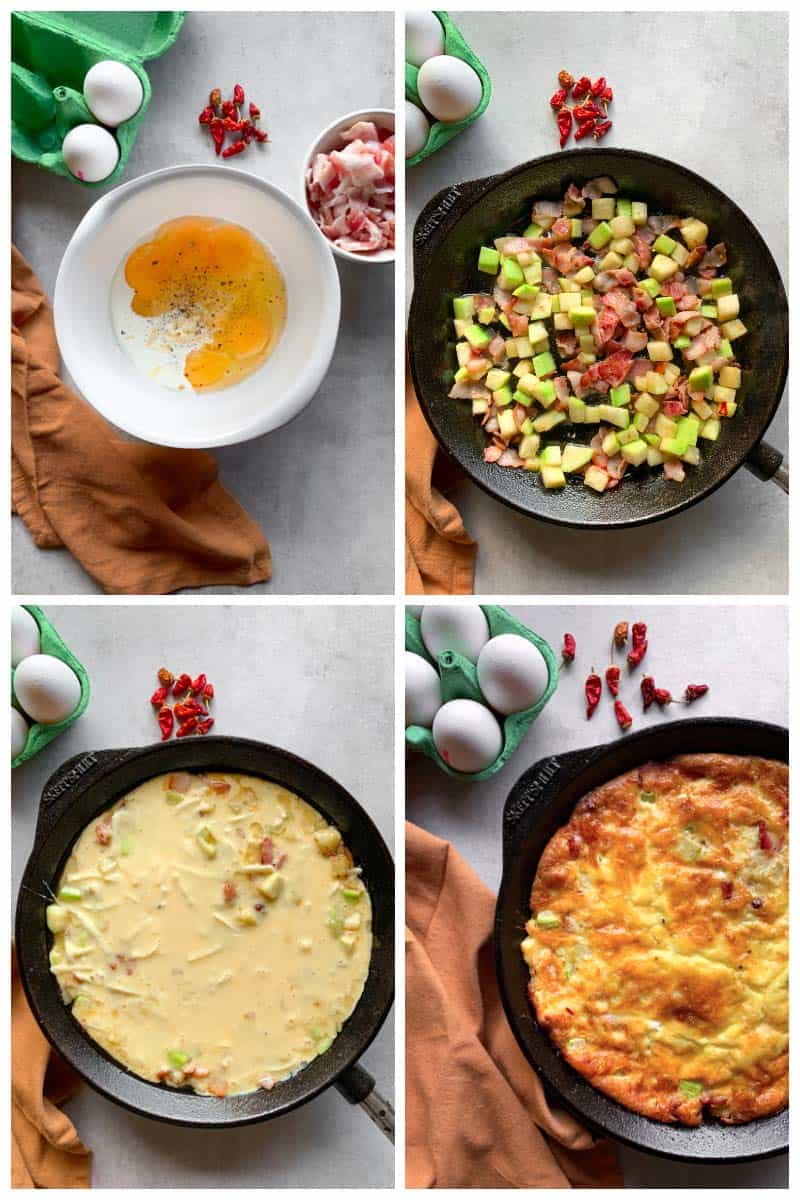 Can I make frittata without using an oven
Traditionally, it's made using the stove-to-oven skillet method. However, if for some reason you don't want to turn on the oven, or you don't have one, you can always make it using the stovetop-only method.
Cook the bacon and zucchini as it says in the instructions below, then pour the egg mixture into the skillet and cover it with a lid. Let it cook over medium-low heat for about 5 minutes until the eggs are set. And here you have it, a stovetop spicy bacon frittata!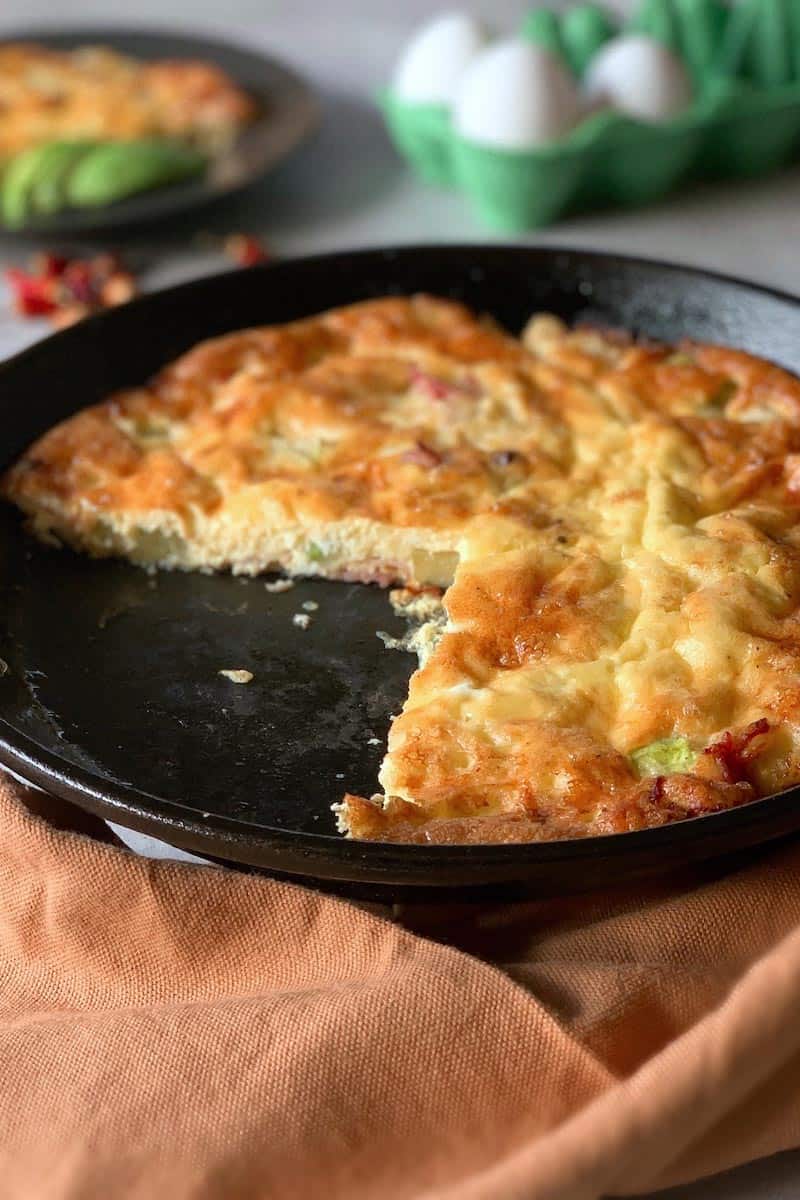 More low carb recipes
3 INGREDIENT KETO CLOUD BREAD RECIPE
Recipe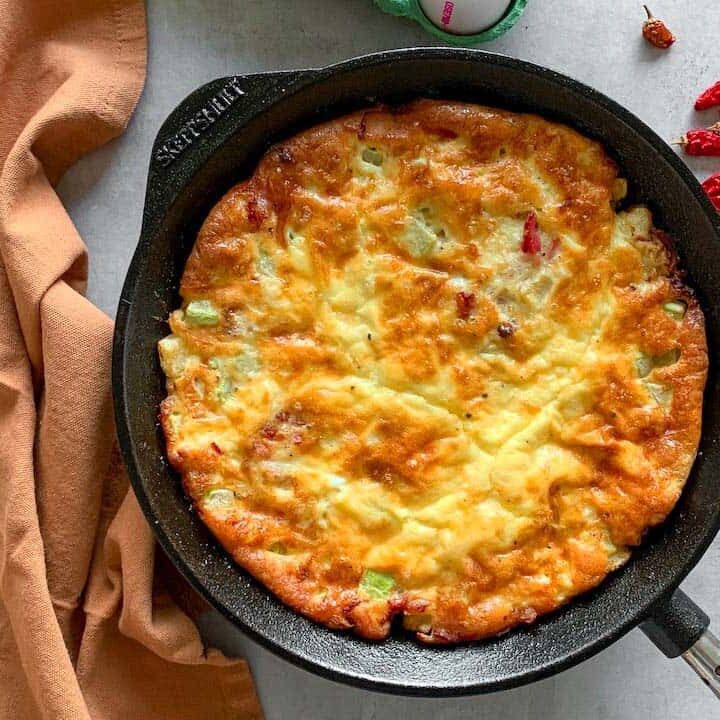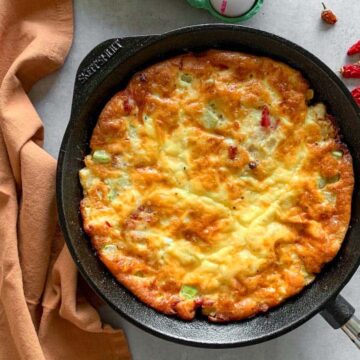 SPICY BACON FRITTATA
This spicy bacon frittata is a perfect keto breakfast. It has a soft and custardy texture with some crispy spicy bacon bits and tender zucchini cubes.
Print
Pin
Rate
Ingredients
5

large eggs

50

g

shredded cheese of your choice

80

g

whipping cream 27-30% fat,

not whipped

140

g

uncured bacon

150

g

zucchini,

diced

2

dried chili peppers,

crushed

Salt

Freshly ground black pepper
Instructions
Preheat the oven to 180C (356F).

Creak the eggs into a bowl. Add the cheese and cream, season with salt and freshly ground pepper to taste. Whisk everything together.

Heat a skillet (8-inches) over medium-high heat.

When the skillet is hot, add the bacon with crushed chili peppers and cook it until golden brown. Add the zucchini and cook just for a few more minutes.

Spread the bacon and zucchini evenly throughout the skillet and pour in the egg mixture. Shake the skillet slightly to ensure the egg mixture spread evenly.

Transfer the skillet to the oven and cook for 20 min or until eggs are set, and the surface is golden brown.

Remove the skillet from the oven and let it sit for 10 minutes before serving.
Notes
NET CARBS PER PORTION: 3g
Refrigerate for up to 5 days in a sealed container.
It can be reheated in a microwave.
You can substitute dried chili peppers with chili flakes.
Nutrition Facts
SPICY BACON FRITTATA
Amount Per Serving (1 slice)
Calories 316
Calories from Fat 234
% Daily Value*
Fat 26g40%
Carbohydrates 3g1%
Protein 16g32%
* Percent Daily Values are based on a 2000 calorie diet.
This website, https://heretocook.com, offers nutritional information for recipes contained on this site. This information is provided as a courtesy and should not be construed as a guarantee. This information is a product of online calculators such as Cronometer.com and MyFitnesPal.com
You may also like